Note: Our AFUL products are sold to terminal agents, please contact our agents in each country or region online /offline. 
Specification:-
>7BA+1DD High-Performance Hybrid Configuration.
>8mm Dynamic Driver With Biological Diaphragm.
>Customised High-Performance Balanced Armature Drivers.
>Enhanced 3D Printed Acoustic Tube Structure.
>Ultra-Long Low-Frequency Acoustic Tube
>RLC Network Frequency Division Correction Technology.
>High-Damping Air-Pressure Balance Technology.
>Balanced Sound Tuning With Tight Lower-End, Clear Midrange, and Extended Treble Response.
>Ideal for Most Genres of Music.
>Exquisite New Looks With Eye-Catchy Face Covers.
>Ergonomic & Lightweight Cavities.
>High-Purity Monocrystalline Copper Silver-Plated Cable.
>Impedance: 30Ω.

>Sensitivity: 115dB@1kHz.

>Frequency Response Range: 5Hz-35kHz.

>Passive Noise Reduction: 26dB.
>Standard 2-pin Connectors.
>Single-Ended 3.5mm Termination Plug.
Introducing the all-new Performer8, a masterpiece flagship-performer IEM from the house of AFUL Acoustics. With a combination of an eight-driver hybrid configuration along with multiple patented technologies by AFUL, the Performer8 packs an outstanding sound performance with unmatched clarity and rich tonality. The pair features a precisely designed 3D-printed acoustic tube structure consisting of an ultra-long bass tube, etc for improved sound reproduction. AFUL has designed the Performer8 as an IEM that will be a great companion for audiophiles with its easy driveability and exciting sound output that complements different genres nicely!!
The characteristic of Performer 8:-
Bass:-
Deep-Hitting, Elastic, Tight Because:
1. A high-quality dynamic driver is used.
2. With Ultra-Long Low-Frequency Acoustic Tube, the low frequency has a deep-reaching lower-end response.
3. High-Damping Pressure Relief Tube, Helps Eliminating Air pressure in the ear canal and makes the lower end more textured.

Vocals:-
The vocal performance of the Performer8 is natural and warm while ensuring a pleasurable Atmosphere. It has a detailed, textured presentation for both male and female vocals.

High-Frequency:-
High-Frequency: Performer8 has a smooth and extended Treble response. Even after 10kHz, The pair maintains a smooth and extended presentation. It ensures the true restoration of instruments and their overtones.
Suggested Genres:-
Suggested Genres: Performer8 has good adaptability to different music genres. It is not only suitable for Pop music but also has great synergy with classical symphonies.


QUESTIONS & ANSWERS
Q: What's the benefit of RLC Network Frequency Division?
A: RLC network frequency division makes the high-frequency response smoother, without any noticeable spikes, This ensures smooth extensions in the extreme high-frequency region.
Q: What's the crossover for 8 drivers here?
A: The drivers are arranged in 4-tube 4-way frequency crossover. The DD is tuned for a strong lower-end, two BA drivers help in lower-midrange, while two BA drivers produce crisp midrange and three BA drivers for high-frequencies. Overall response is highly-coherent.
Q: How does the High-Damping system affect the Performance of the pair?
A: The difference between our high-damping pressure relief system and ordinary pressure relief system in other earphones is that our pressure relief damping is done precisely and has a high effect. It retains extremely low frequencies and enhances the texture of bass.
Q: What's the benefit of longer Bass tubes in terms of sound performance?
A: Hi, The longer bass acoustic tube design improves the lower end with a deeper bass dive, promising a clean, refined, and strong bass response.
Q: I saw there are some posts about Band8 Pro from the Chinese market, is it the same as Performer 8?
A: Hi, Band 8 Pro is only for the Chinese market and it is the original design before. The design cost and sound style of Band 8 pro, regardless of cost relative to materials, sound style, on a comprehensive basis, is biased towards symphony. Performer8 is an improved version based on Band8 Pro. It is much more cost-effective and has a similar sound. The difference is that it is more upright and fuller than Band 8 Pro.
Q: What is the nozzle size of Performer 8?
A: The nozzle size of Performer 8 is 5.83mm.
Q: What kind of music is P8 suitable for?
A: It is not only suitable for Pop music but also has great synergy with classical symphonies.  
Q: What are the differences between P8 to P5?
A: 1. P8 adopts the same technologies as P5 but with a much more complex design structure and process, and a higher-grade industrial-grade 3D print is used.

2. The number and length of the acoustic tubes are completely different in the P8. The total length of the acoustic tube in P8 is more than three times that of P5. The driver matching is also further optimized.
3. The P5 features Three-tubes 3-way frequency divider while the P8 adopts four tubes and a 4-way frequency crossover.
4. P8 has a wider frequency Response Range, more accurate musical instruments, and richer tones.
5. P8 has denser sound and soundstage is also wider.
6. The main character of P5 is delivering lively vocals, the P8 has a more balanced and all-rounded performance that can easily handle different genres of music.
Q: Is there any patented technology used on Performer 8 like Performer 5?
A: We have the invention patented CN209517487U Specially developed physical channel frequency division structure and a few more. Here is detailed information about the patent: http://www.soopat.com/Patent/201920347965
Q: What is the driver configuration of the Performer 8?
A: Hello, Performer 8 has 1DD+7BA drivers.
Q: Are the size of Performer 8 the same as Performer 5?
A: Yes, the size of the Performer 8 is the same as Performer 5, and it will be the same conformable wearing experience.  
View full details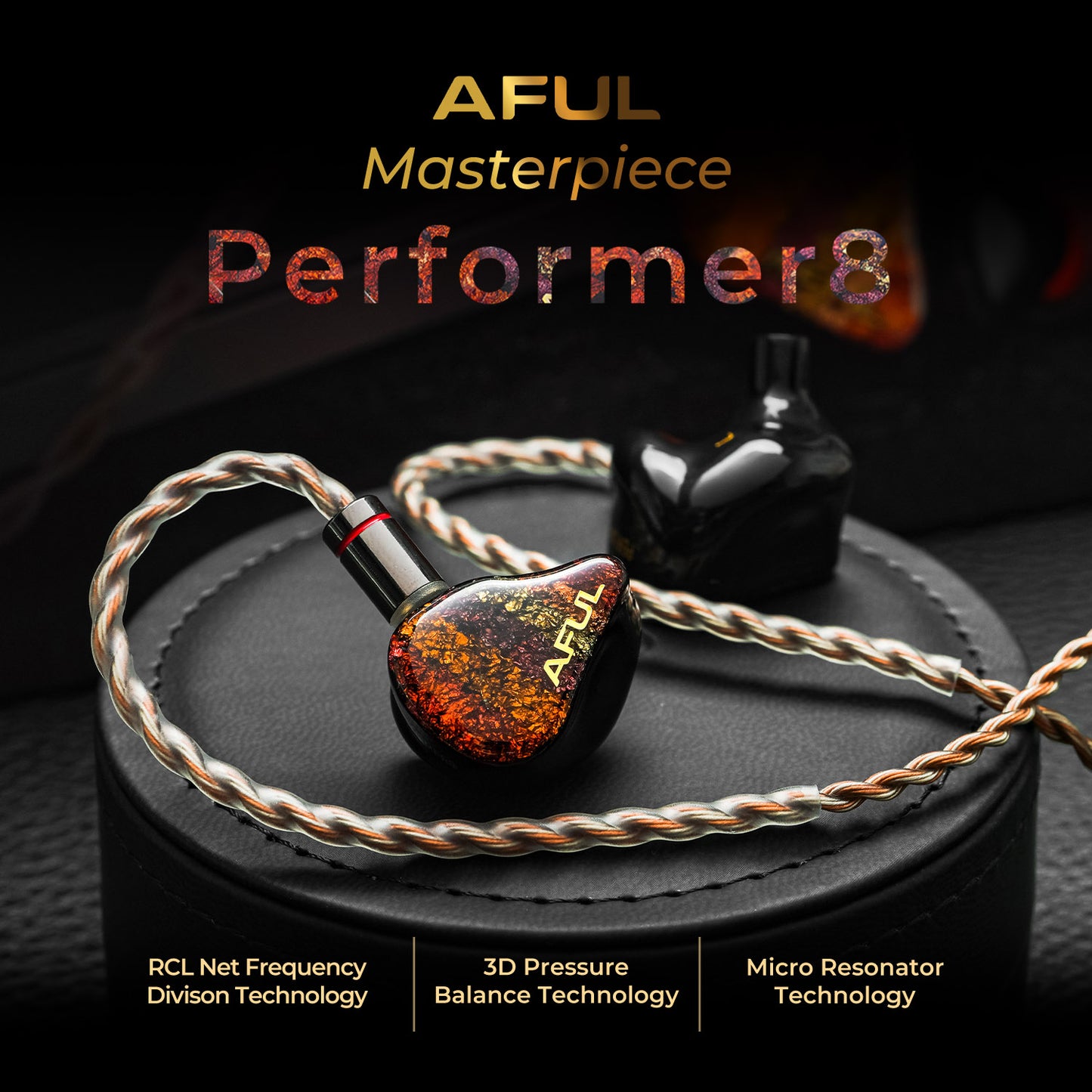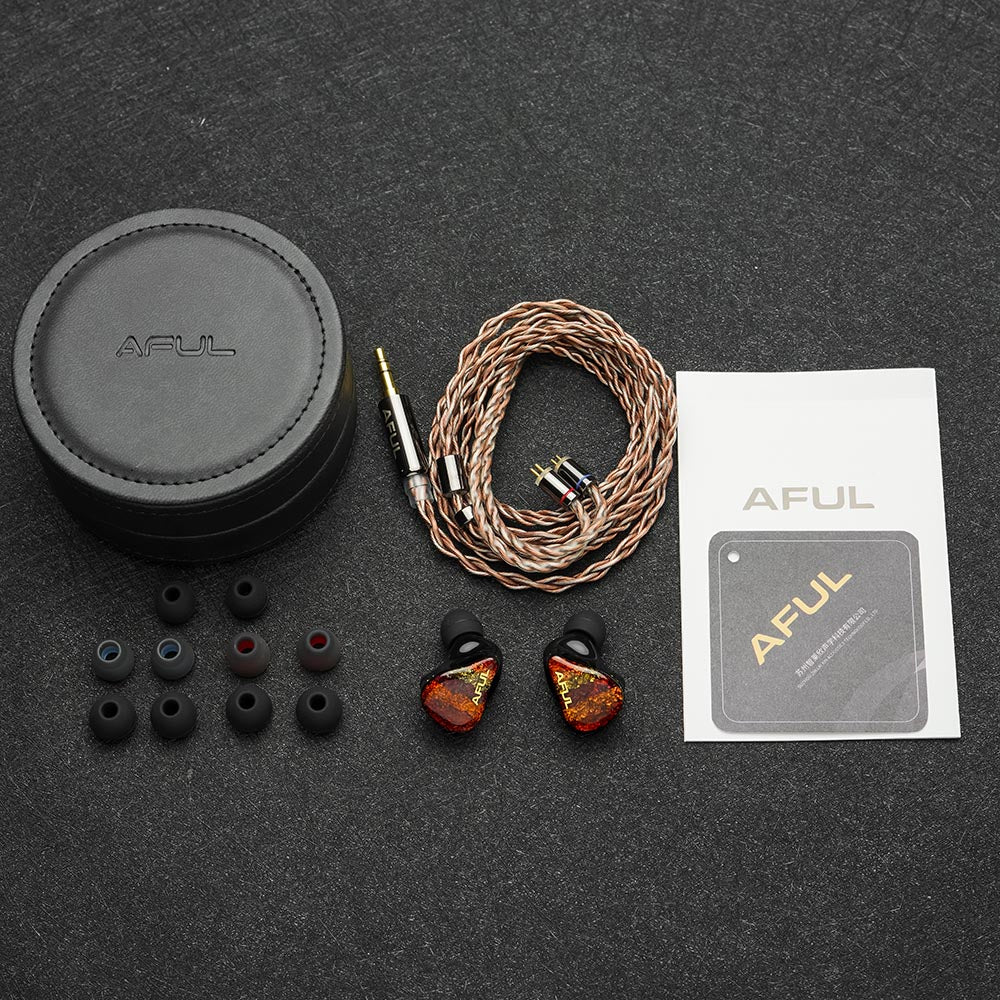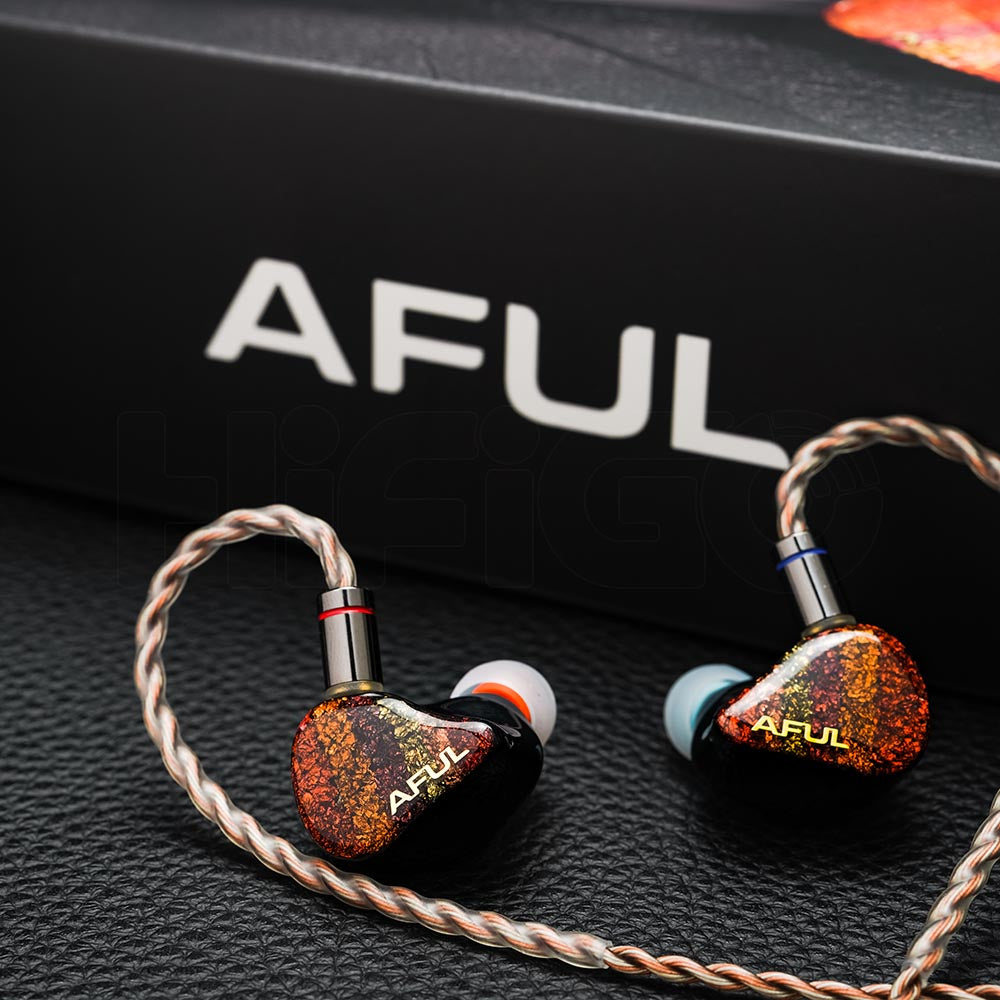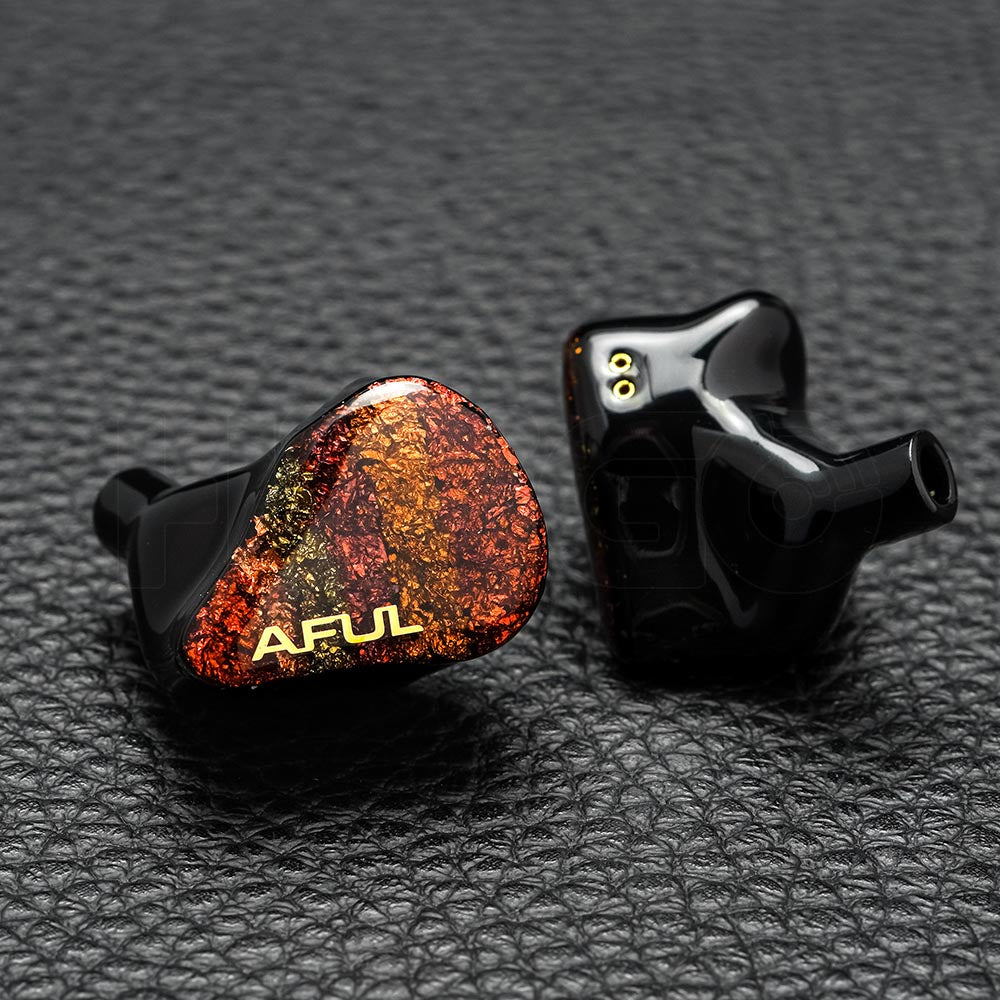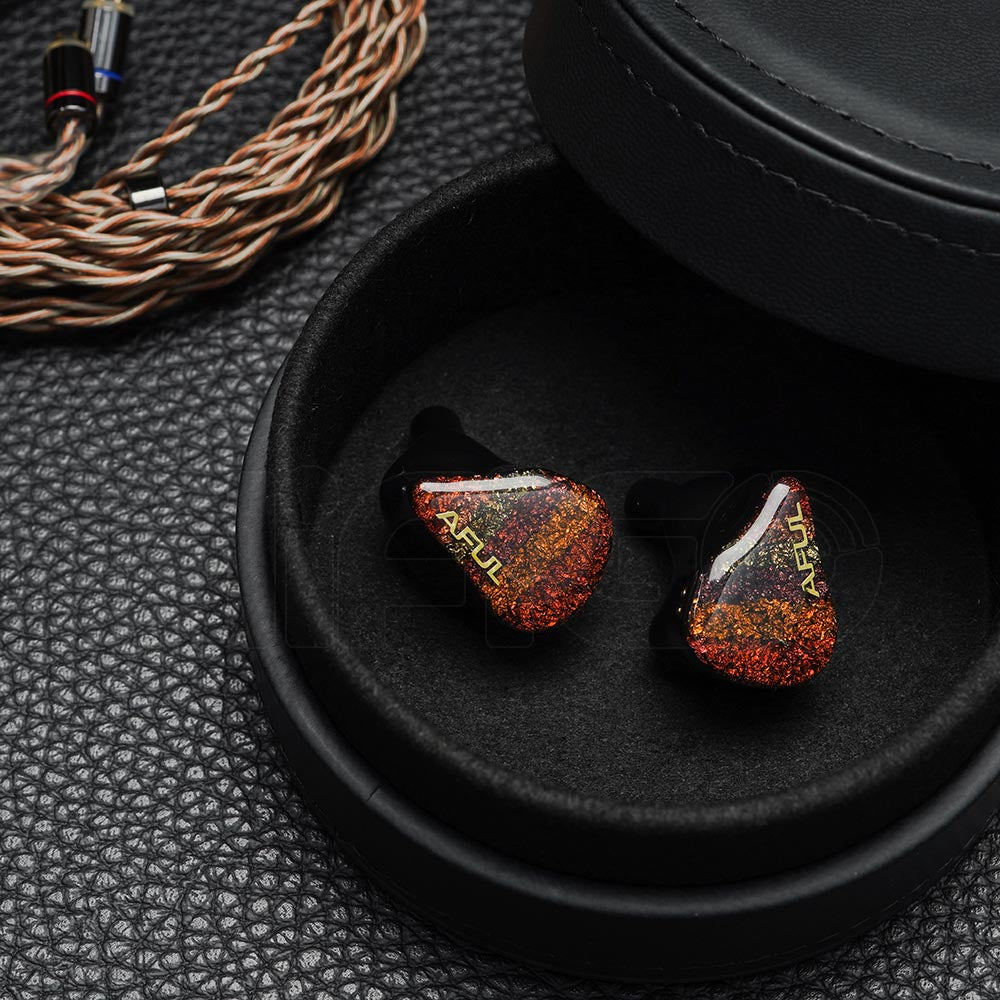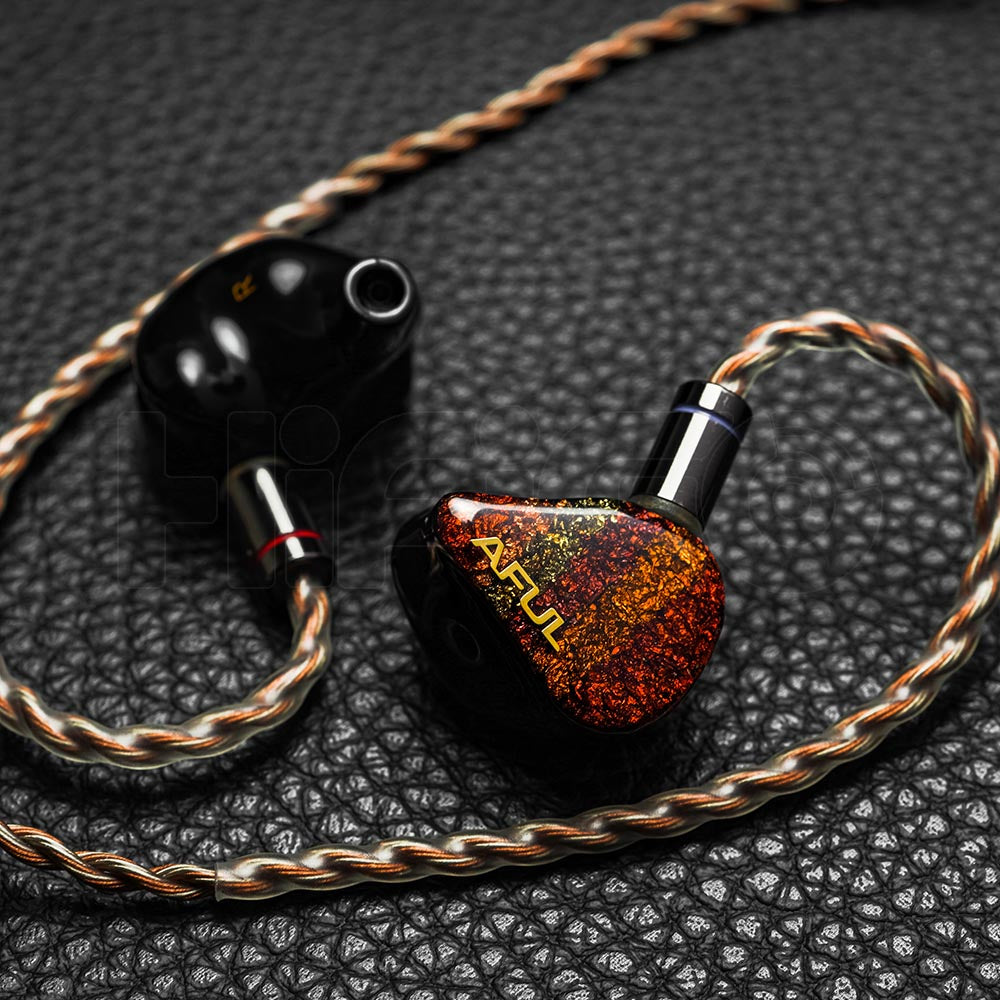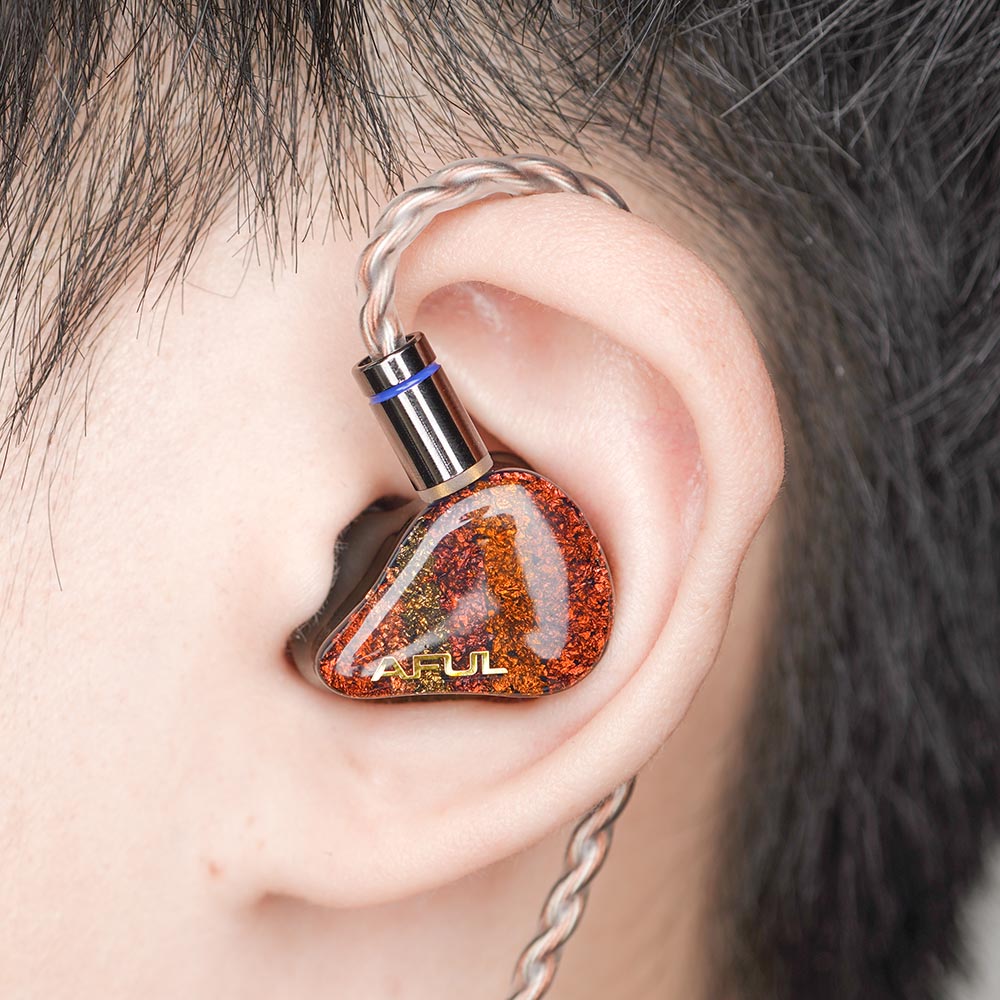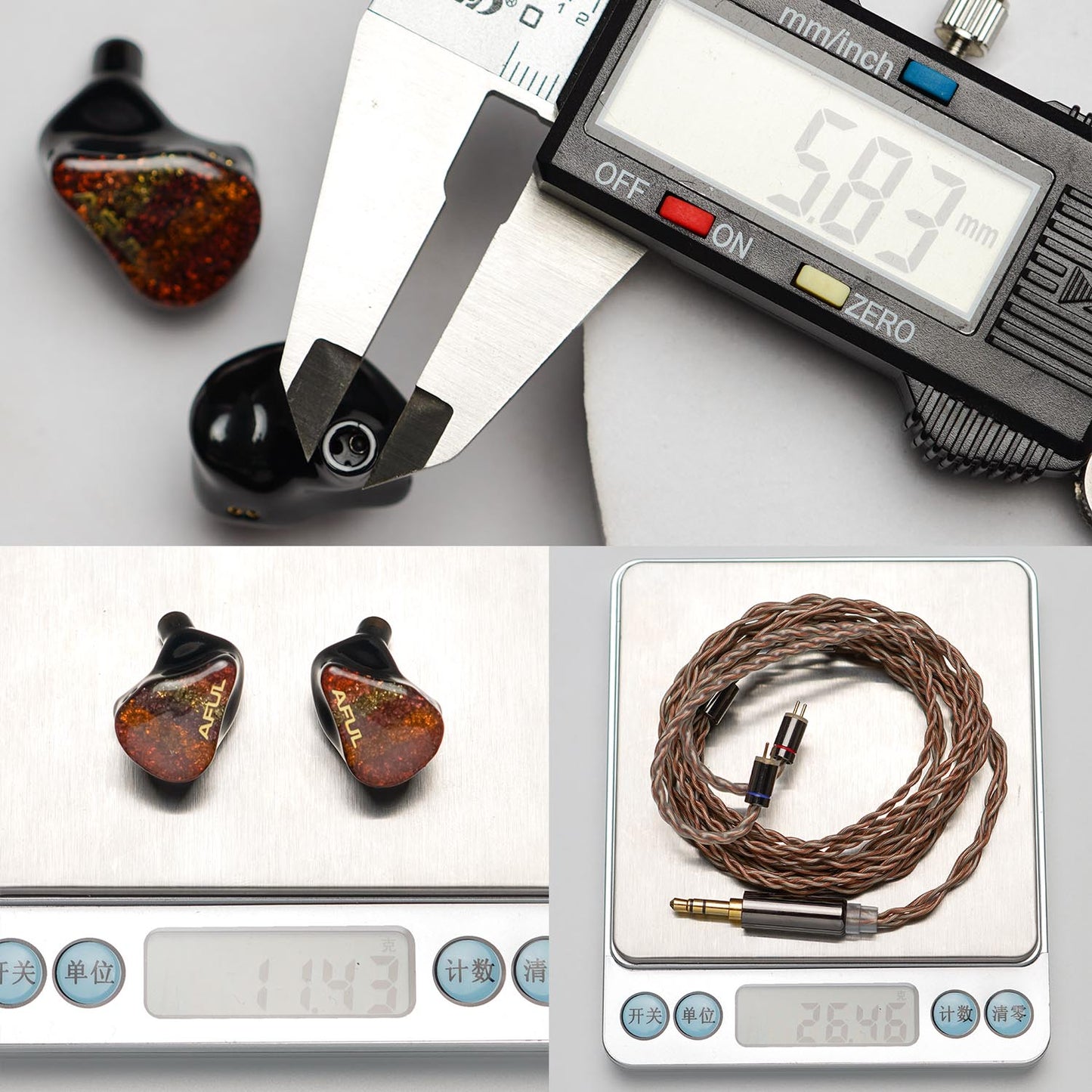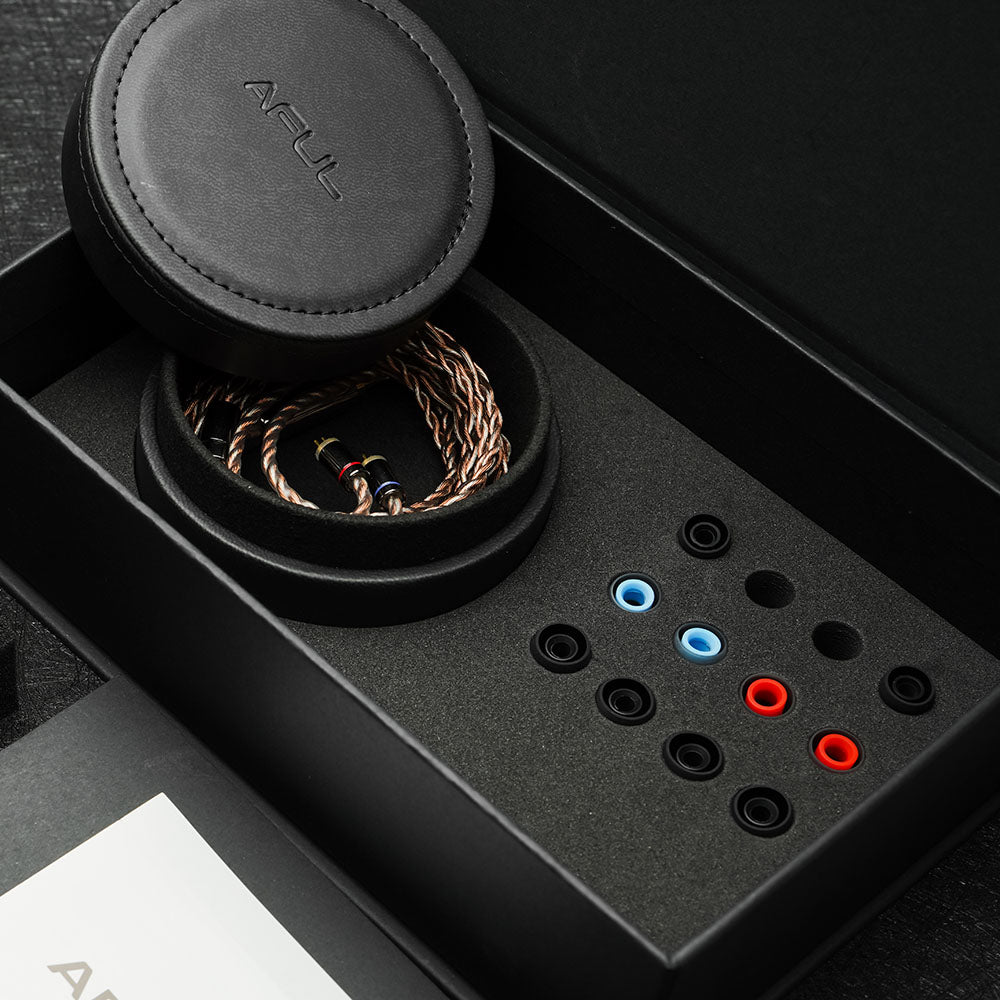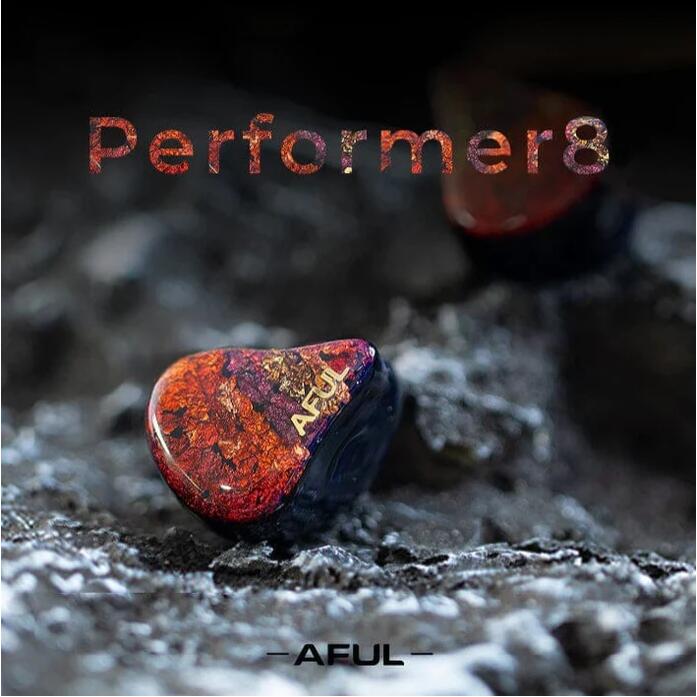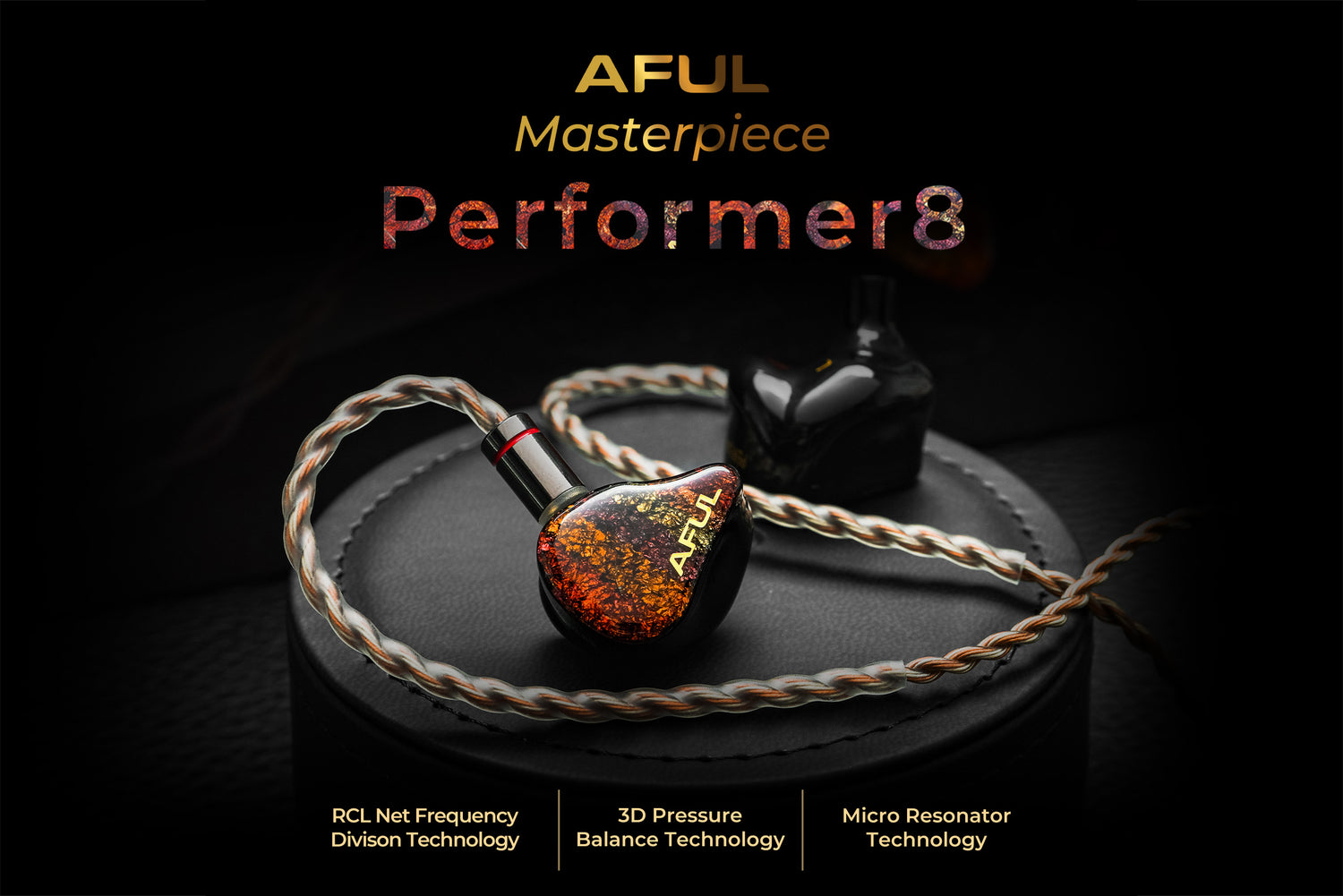 AFUL Masterpiece
A glimpse at AFUL Performer 8.
The pair features intricate crafting with multiple layers of aluminum foil hand-painted on each earpiece for an exquisite, premium finish. Each earpiece has a unique design and a unique texture. The face covers have been designed to match the autumn leaves with a combination of golden, purple, and orange colors!!
Free Shipping

Pair text with an image to focus on your chosen product, collection, or blog post. Add details on availability, style, or even provide a review.

Hassle-Free Exchanges

Pair text with an image to focus on your chosen product, collection, or blog post. Add details on availability, style, or even provide a review.